Building Better Lives, Together
To Our Member-Owners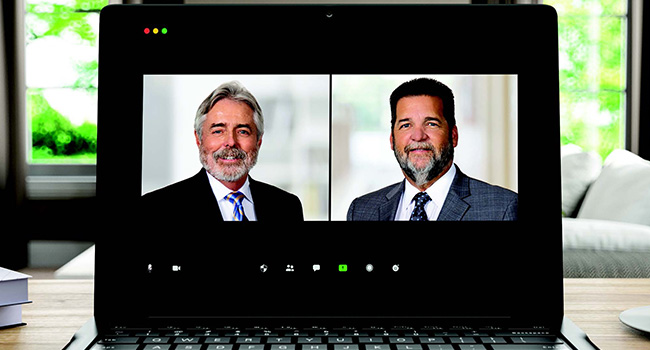 We started 2020 celebrating our first-ever float in the Rose Parade® presented by Honda with the theme, "Better Together: Hope Creates Community." We continued that message of hope into the New Year, unbeknownst of the challenges that lie ahead. When the COVID-19 pandemic hit, we recognized the critical role Wescom plays in our local communities', state's, and nation's infrastructure and responded with our members' needs first because that is what we've been doing for more than 85 years – no exceptions.
Despite the hurdles that the global pandemic presented, we're pleased to inform you that Wescom continued its strong performance, posting net earnings of more than $19 million in 2020. This performance can be attributed to several key initiatives in 2020 and the commitment we made to serving our members and Southern California communities during times of uncertainty.
Staying committed to serving the financial needs of our members during these unprecedented times meant keeping our branches open, making our remote channels available, and helping members with payment assistance on their auto loans, personal loans, and credit cards. We offered deferment on mortgage and home equity payments, skip-a-payment for loans, and short-term, small-dollar loans. To get members their funds faster, we removed the withdrawal limits from Savings and Money Market Accounts and waived the early withdrawal penalties on Certificates of Deposit. We also expedited ACH deposits, which allowed members to get their direct deposits up to two days sooner, and increased Wescom ATM withdrawal limits. In an effort to provide even more financial relief and exceed expectations, we extended Signature Scores into 2021 so members wouldn't have to worry about requalifying for Signature Membership, even if their banking relationship with us changed.
True to our mission of building better lives, we donated meals to healthcare workers and donated more than $167,000 to Southern California area food banks that serve local residents and families. Providing members with competitive and relevant products and services continued to be important to us as our members' financial needs changed. The convenience of our online membership application was imperative during California's "Stay At Home" public order last spring. In the month of April, the online application contributed to 54 percent of our monthly new account openings. We recognized that remote account access was our members' priority and refreshed our Wescom Mobile Banking App and introduced our new, redesigned website. As a result of economic impact payments and decreased consumer spending triggered by financial uncertainty surrounding COVID-19, we recorded a 22 percent growth in assets and a 25 percent growth in members' shares. Despite a nearly 11 percent decrease in loan balances, we saw a 34 percent increase in new real estate loans as members took advantage of historically low interest rates in 2020. Our continuous efforts to provide valuable member service amid the pandemic was confirmed by our members' rating of nearly 85 percent on the Member Experience Survey, which is a score based on an average of six categories reflecting the member's experience with us.
We also contributed our time and energy to have a positive impact on the lives of our fellow community members. True to our mission of building better lives, we donated meals to healthcare workers and donated more than $167,000 to Southern California area food banks that serve local residents and families. We provided support to teachers, students, and their families through tutoring scholarships and funded school supplies to address educational and financial challenges presented by distance learning. And when the nation faced the grim truths of racial injustice, we did not remain silent. We updated our Diversity Statement to better reflect our stance on diversity as an organization and communicate that we support a culture of respect and inclusion for all. We also donated to causes that directly address the systemic racial issues, declared a day of learning for our nearly 800 team members, and provided a paid day-off to be used toward volunteerism so that they can get involved in making a change in our communities. To end the year with a gesture of gratitude, we hosted our first-ever virtual Member Appreciation Concert featuring Sheryl Crow to thank members for banking with us as part of our annual Member Appreciation Season.
When the Credit Union was founded in 1934, we set out to help people when they needed it most – and that's just what we did 85 years later during some of the most challenging times our world has seen. This year we learned that times of adversity provide great opportunities to exceed expectations. We dedicate every day to making sure we go above and beyond to build better lives for our members and Southern California communities as we hold on to our message of hope that inspired Wescom to respond with great resilience in 2020.
Click here to view Wescom Credit Union's 2020 Annual Report and discover how Wescom helped Southern Californians build better lives.